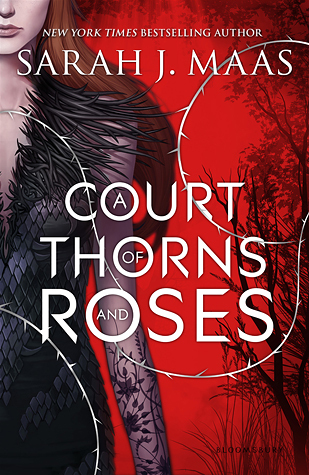 A Court of Thorns and Roses
By: Sarah J. Maas
Series: A Court of Thorns and Roses #1
Publication Date: 5th May 2015
Publisher:

Bloomsbury Children's
Page Count: 416 (paperback)
Genres: Fairy Tales, Fantasy, Young New Adult
Source: Bought
Rating: 5.5 (Um. Meh)
The breathtaking start to a seductive high-fantasy from New York Times bestselling author of Throne of Glass series.



Feyre's survival rests upon her ability to hunt and kill – the forest where she lives is a cold, bleak place in the long winter months. So when she spots a deer in the forest being pursued by a wolf, she cannot resist fighting it for the flesh. But to do so, she must kill the predator and killing something so precious comes at a price.





Dragged to a magical kingdom for the murder of a faerie, Feyre discovers that her captor, his face obscured by a jewelled mask, is hiding far more than his piercing green eyes would suggest. Feyre's presence at the court is closely guarded, and as she begins to learn why, her feelings for him turn from hostility to passion and the faerie lands become an even more dangerous place. Feyre must fight to break an ancient curse, or she will lose him forever.
~This review may consist of spoilers~

I haven't reviewed for like 4 months because of how hectic this year was but I couldn't not review this book. Honest this book was more of a letdown for me and it was far from my expectations but Sarah J. Maas so ehhh.

My current favorite characters are actually Rhysland and Lucien. Rhysland was a love that I only found at the end of the book. I found that his character development was actually the best and I fell in love with his vulnerable sides. Lucien for me was a love at first sight situation. On the whole I felt that they were the ones with the best development (even as side characters). The main characters for me was a lil bit of a letdown because I just couldn't get attached to them.



Romantic Relationships

I didn't like the main ship aka TamlinxFeyre at first. I felt that the connection and chemistry was there but it wasn't developed enough. At the end I felt that Feyre became a character that relied far too much on Tamlin and her love for him and I didn't like that because I personally like strong female characters and at the end she sort of became just Tamlin's lover. sigh.
Family Relationships

On the other hand, I really enjoyed the relationship between Nesta and Feyre. I found their relationship very real and the love they had for each other was portrayed in a very unique way with that love-hate extreme relationship. It was one of my favorite parts of the story :)

Writing

As usual, I have no complains about Sarah J. Maas' style of writing. I love the way she writes (always have, always will) though this time I think because she had to incorporate so much into one book she made the book flow far too fast. However, her attention to detail and the flow of her writing was still the best of the best.

I was originally very excited by the book and the premise of it but as I read it I found it very cliché-ish and it became a bit of a letdown for me sighs. I expected as much adventure and headstrong will as in the Throne of Glass series but there just wasn't enough. At the same time, it felt like the pace was too fast so I am very conflicted with my feelings regarding this book.
Final Verdict:
I like this book but I also don't, which makes me very confused. Sarah J. Maas is one of my favorite fantasy writers so I will always read her books. However, this book just didn't feel up to standard probably because of the number of aspects she tried to add in and that's why it felt like a bit of a letdown. I did have the parts that I enjoyed but on the whole it was a book that I just felt ehhhh about.
*All pictures and graphics do not belong to me. I take no credit for any of it.
** All opinions are mine and are in no way influenced by anyone or anything.