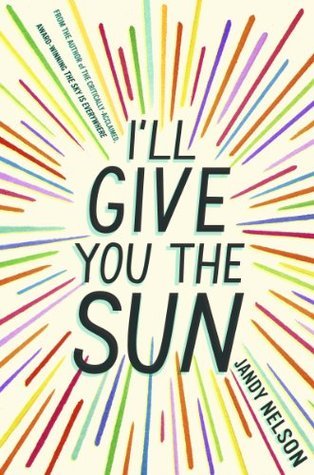 I'll Give You The Sun
By: Jandy Nelson
Publication Date: 16th September 2014
Publisher: Puffin

(US)
Page Count: 371 (hardback)
Genres: Young Adult Contemporary, Realistic Fiction, Contemporary Romance
Source: Purchased
Rating: 10 (Flawless and Beautiful)
A brilliant, luminous story of first love, family, loss, and betrayal for fans of John Green, David Levithan, and Rainbow Rowell



Jude and her twin brother, Noah, are incredibly close. At thirteen, isolated Noah draws constantly and is falling in love with the charismatic boy next door, while daredevil Jude cliff-dives and wears red-red lipstick and does the talking for both of them. But three years later, Jude and Noah are barely speaking. Something has happened to wreck the twins in different and dramatic ways . . . until Jude meets a cocky, broken, beautiful boy, as well as someone else—an even more unpredictable new force in her life. The early years are Noah's story to tell. The later years are Jude's. What the twins don't realize is that they each have only half the story, and if they could just find their way back to one another, they'd have a chance to remake their world.





This radiant novel from the acclaimed, award-winning author of

The Sky Is Everywhere

will leave you breathless and teary and laughing—often all at once.
~This review may consist of spoilers~

I'll Give You the Sun is my favorite book of the year. I love this book so much that I can't even believe it. This book is something that I never knew I needed in my life but now I adore it so much I never want to let go. I never truly fully loved a book as much as I love this one. I'll Give You the Sun by Jandy Nelson is indeed flawless and beautiful. FYI, just in case this isn't enough read the following and see me gush about my new favorite book because hell yeah this book deserves it!
What I am Loving:
Characters
I'll Give You the Sun is written in 2 POVs, Noah's and Jude's. They are siblings or more specifically twins, who are so different and yet so alike at the same time. Noah's POV happens when Noah and Jude are 13 - 14 years old and Jude's POV is when they are 16 years old. When they were 13, they were super close and super tight. Noah was the artsy, shy kid while Jude was wilder and more out-of-control, just like a typical teenager. It's only when the POV changes to Jude's, and they turned 16, that their personalities seem to switch and they aren't as close anymore - in fact they barely speak to each other. This is largely due to a huge tragedy which impacted them so much that their personality switch was, in my opinion, a way to cope with the change and also because they each blamed themselves to a certain extent on what happened and what they caused their family to lose.
My favorite part of the book was actually reading about how the 2 of them or as they like to call themselves - JudeandNoah or NoahandJude (yes, without the spaces) grow up and develop throughout the book. At 16 years old, Jude suddenly becomes the artsy one because she did something wrong back when she was 13 and ruined her brother's dreams of going to art school. Noah on the other hand, also made mistakes and kept huge secrets (READ: HUGE) from his sister and stopped making art because he thought that he wasn't good enough as he didn't make it to art school, whereas his sister did. Just like the summary says, each of them held their own parts of the story and their own secrets which caused them to barely speak within a span of 3 years. Only when these stories and secrets come clean that these characters finally understand the true story behind the tragedy that they faced and in turn learn to forgive and forget and finally return to being JudeandNoah.
Family Relationships - The Sweetwine family
The Sweetwine family is a typical imperfect family with problems of their own. It involves the typical children-thinking-that-their-parents-favors-the-other-sibling conflicts and also a larger mother-wants-to-divorce-father situation. These problems eventually get bigger and bigger when Noah eventually finds out the truth about why his mother is changing so drastically and wants a divorce (hint: she fell in love). In the end, it leads to a huge tragedy and everything changed.
On a side note and in view of the larger picture, in the first place, it was the fault of the entire family which caused many problems to arise and the huge conflict in the book that changed JudeandNoah. In the end, this book also teaches us that is is because family is family that the Sweetwine family were able to solve their problems and showed us how love doesn't change, especially family love, no matter how much you will it, because family comes first.
Romantic Relationships
I'll Give You the Sun is a contemporary romance novel after all. As such, the romance does play a pretty huge role in the book. However, compared to other contemporary novels, the romance is this book is really genuine and realistic. True love isn't always simple and smooth-flowing and Jandy Nelson knows exactly how to express it. My favorite part of the romance is how Jude and Noah's romantic partners help them find themselves again and develop as characters and grow up. Brian and Oscar, Noah and Jude's partners respectively have personalities which are the opposites of them but somehow seem to also complement them. In this case, I guess the saying is true after all - Opposites do attract.
Brian has the charm of the typical boy next door and he helps Noah gain self-confidence and encourages him to be more open. At the same time, of course, as they were only 13/14 when they first meet, Brian and Noah aren't out of the closet yet and due to several reasons, Brian cannot admit that he is gay. As a result, due to Noah's eventual actions from his overthinking and jealousy, Noah eventually does something that hurts Brian and causes Noah to change and blame this whole thing on himself. I will let you know that there was a happy ending but how it goes you will just to read the book yourself!
On the other hand, Oscar is kind of a wreck. A hot, british, wreck with a hell of a lean. Oscar has a lot of problems himself too. In fact, Oscar actually met Noah before he met Jude. Anyways, Oscar plays a huge part as to how the book turned out. Initially Oscar did not know of Jude's age, nor did he actually know she was a Sweetwine (
long story short
-
yes this would impact the story if he knew). As such he falls in love with her and she returns his feelings. However, Jude at this point of time is 16 and has a whole lot of problems because school isn't working out, her relationship with her family was hanging on the edge of a cliff and things really sucked. At the same time, Oscar wasn't exactly boyfriend material either as he was constantly bringing girls home and most of them used to be his girlfriend. However, eventually after things played out and they got to know each better and the main conflict got by they finally had a sort of happy ever after where they got together and the end. I'm so happy for them - I literally squealed when they finally got together! Yay Oscar! Yay Jude! Also, if until now you STILL do not have a reason to read this book - just know that Oscar's lean is the perfect reason. SO GO READ THE BOOK!
Regarding the plot of the book, in the beginning I was just just so intrigued to find out what happened and why. As the book goes along, pieces of this ginormous puzzle slowly seem to find their way and fit in the most impossible places possible and at the end all the secrets and the little details suddenly just hit you so hard you won't even believe it because you finally know that that's what happened and that's why things changed within the 3 years. At the end of it I guarantee you will be blown away when everything makes sense.
Here, I would like to advise you to not rush into this book. Instead, when you're free for a day, and ready to be emotionally drained - only then should you take a deep breath before delving into this breathtakingly magical contemporary. And I promise you that it will be worth it.

Writing
The writing is flawless and beautiful and I just want to reread the book all the time and absorb all the beauty and just sigh at how perfect the moments and details are and just everything.
Also, if Jandy herself happens to read this review (and I would literally squeal if she did), I would just like to let her know...
Dear Jandy, Thank you for writing this book!

I was literally crying and laughing all the time throughout the book. The small details you included throughout the book, the bible add-ins, the itsy bitsy moments that fit and connected just made my feels explode. I will treasure this book for years and years to come and make my children and their children read it and I know they'll love it too because this book is so precious. Thank you for writing this gorgeous book!
What I am Unsure Of:
In the beginning I was unsure if I would actually enjoy the book completely because I honestly did not like Jude. This is very common for me. If you have been following my reviews, I'm just saying but I'm very particular about female characters. I usually hate 80% of them because they are most of the time to needy/whiny/too unrealistically mary sue.
However, in this book, as soon as the book progressed to Jude's perspective, I started understanding her better and as a result started loving her. Asides of this, there is nothing that I am/was unsure of or disliked. I felt that everything really connected - from the start to the finish the book was just like an intricately woven spider web. This book is my favorite book of the year. It could possibly even be my favorite book of all time. Hands down, flawless, perfect, beautiful.
Final Verdict:
This book was everything I never knew I wanted and needed in my life. I 110% recommend this book to everyone. Please please please go into this book with an open mind and take in all the beauty that the characters have to offer. It will leave you breathless and will lead to book depression because you know you will want more. This book is utmost perfection.
*All pictures and graphics do not belong to me. I take no credit for any of it.
** All opinions are mine and are in no way influenced by anyone or anything.